In late 2011 Google »integrated« several of its Reader's features into GooglePlus. Those features became useless after what we feel was an amputation of vital parts. We mainly missed the sharing goodness and as it happened, we were looking for Google alternatives anyway at that time.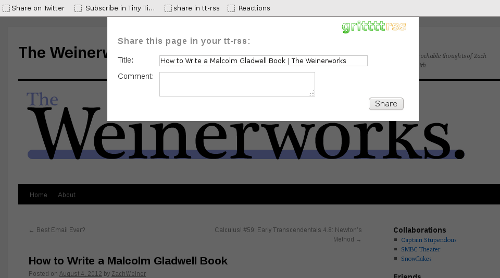 To replace the core functionality, we settled with the open-source feed reader tiny, tiny rss (which is neither tiny nor tiny, tiny by the way, but rather great), in short: tt-rss. Even though it exceeds Google Reader in some aspects (yay, self-hosting and open source!), for us it lacks a few neat features, too. The things we miss and are about to (re-)build are:
1
Drive-by-Sharing
Share any page you are browsing with a simple, intuitive bookmarklet, even though you're not subscribed to the website's feed (it might not even have one). See the screenshot above for an example.
2
Shared-Widget
To show the non-tt-rss-using world what you share with other tt-rss-users, gritttt-rss provides a widget that shows the latest items from tt-rss' public shared feed on your website (examples can be seen embedded on the lower right on both Nic's website and Jan's website).
3
Import
In order to make the move feel like Google Reader never happened, gritttt-rss lets you import your historic starred and/or shared items from Google Reader into tt-rss.